This Keto Pulled Pork is a surprisingly delicious slow cooker meal! If you love applesauce with pork you are going to love this recipe!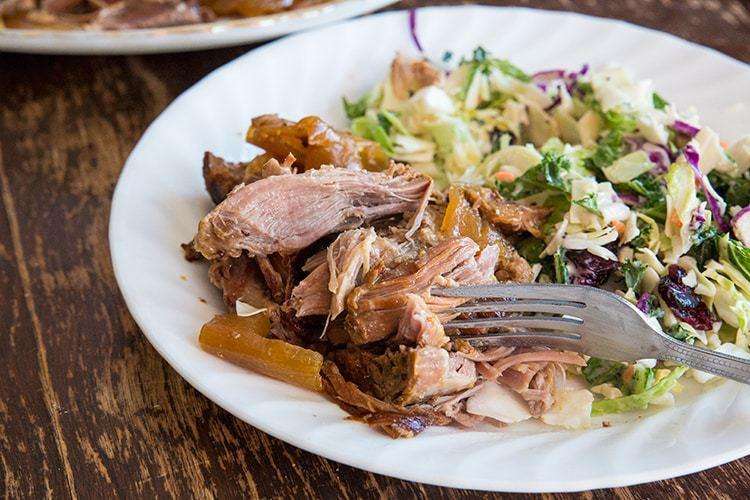 Keto Pulled Pork is So Easy in the Crockpot!
This particular keto pulled pork recipe is so easy in the crockpot that you're going to wonder why you haven't tried this before. I've always loved applesauce and pork so the apple flavouring here makes this one amazing meal and since I had apple juice and a pork roast, I thought why not pair the two of them together in the slow cooker? It worked like a charm!
What kind of roast do I used for pulled pork?
Any fatty pork roast will do! You don't want to use a ham, that's a different meat entirely. You want a butt roast or a shoulder roast that has a large amount of fat. The fat will break down and leave you with delicious shredded pork.
Which Crockpot should I use for this recipe?
For this recipe, we recommend a 6-8 quart oval shaped crockpot (slow cooker) such as the one pictured below. While this recipe will certainly work in other styles, this one affords the right amount of space for just the right amount of food.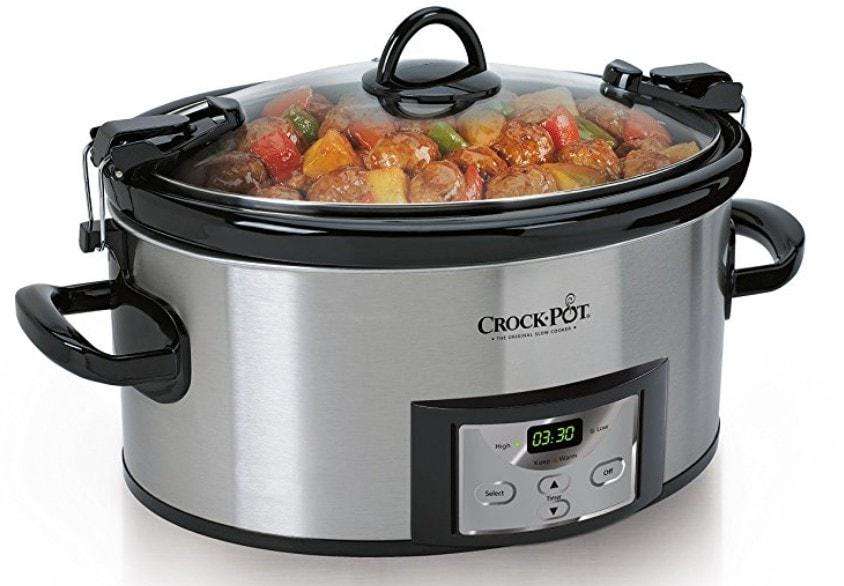 You can easily find this crockpot on Amazon here if you currently don't own one and would like to purchase it.
Our top 3 Crockpot accessories that are worth the money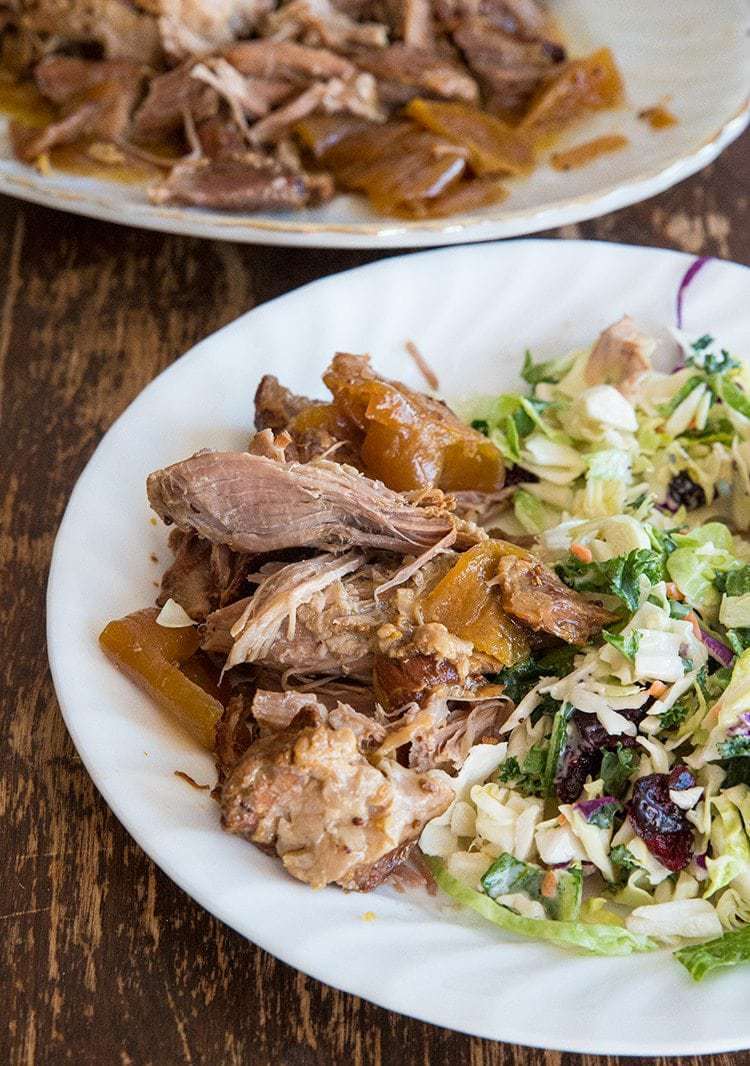 Tips and Tricks to Make the Best Keto Pulled Pork
Make sure to get a fatty pork roast or the end result will be too dry.
You have to cook these types of pork roasts low and slow! Allow for all day cooking and by the time it's done you will have a perfect crockpot apple pulled pork.
You can use the juices left in the crockpot with the pork and serve it on top. I wouldn't make it into a gravy but simple drizzle some on top when serving. It has a great apple taste!
Happy cooking and I hope you love this as much as we did!
Mike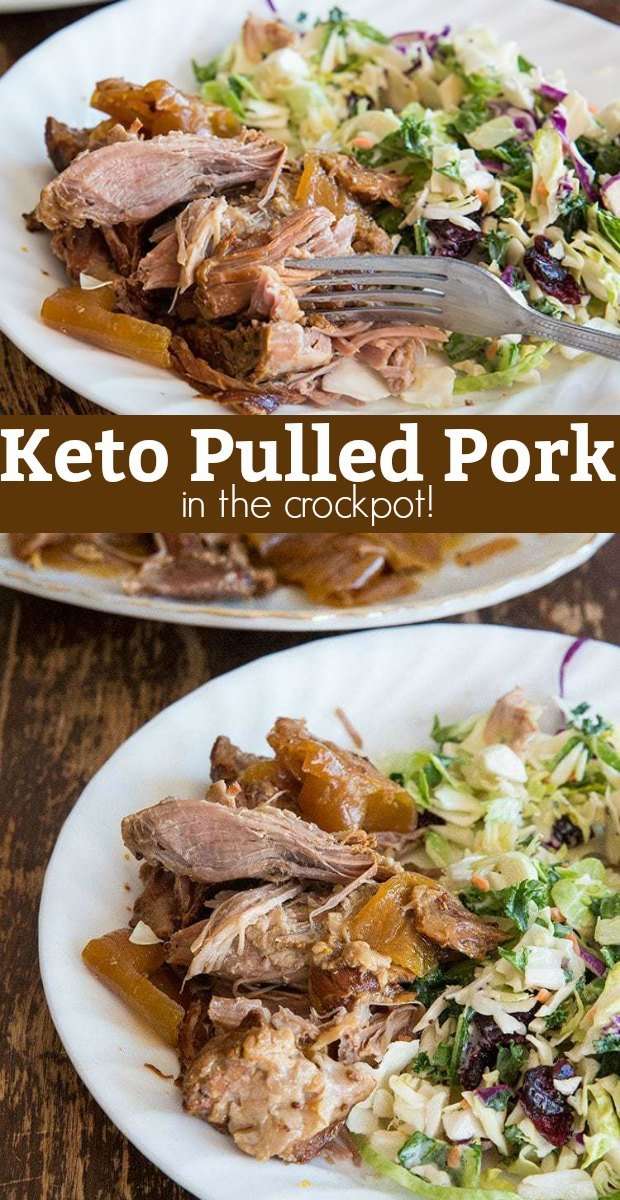 Print Recipe
Keto Pulled Pork in the Crockpot
This Keto Pulled Pork is a surprisingly delicious slow cooker meal! If you love applesauce with pork you are going to love this recipe!
Prep Time5 mins
Cook Time8 hrs
Total Time8 hrs 5 mins
Servings: 8 people
Calories: 318kcal
Ingredients
2 tbsp olive oil
1 4 lb pork shoulder or butt roast
1 large red onion peeled and quartered
1 cup sweetened apple juice
2 tbsp seeded mustard
1 tbsp dijon mustard
1/2 tsp salt
Instructions
Heat the oil in a large skillet, then fry the roast until browned. Place in the bottom of a crockpot.

Place the onion around the roast. Whisk together the rest of the ingredients, then pour over the roast.

Cover with tinfoil, then place the lid on top. Cook all day on low, until the roast is falling apart and pulls apart easily.

Serve with the onions and a little bit of the sauce if wanted.
Video
Notes
All calories and info are based on a third party calculator and are an estimate. Actual nutritional info will vary with brands used, your measuring methods etc.
Nutrition
Calories: 318kcal | Carbohydrates: 7g | Protein: 34g | Fat: 16g | Saturated Fat: 4g | Cholesterol: 115mg | Sodium: 342mg | Potassium: 646mg | Sugar: 5g | Vitamin A: 0.2% | Vitamin C: 3.3% | Calcium: 3.2% | Iron: 12.6%
47