This post may contain affiliate links. See my privacy policy for details.
This herb and garlic stuffed eye of round roast recipe yields a fabulously tender, juicy and delicious roast beef – from what usually isn't the most tender cut of beef. Dare I say it gets as close as possible to melting in your mouth as you can with this lean, tougher cut of beef?
Using this method to cook roasts has been proven to give great results! It works!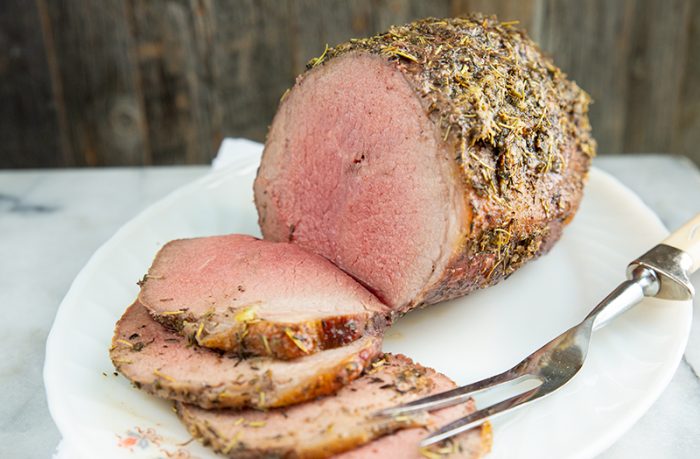 The Eye of Round Roast Cut of Beef
Since the eye of round roast looks similar to it's delicious counterpart, the beef tenderloin, one might assume that it's a tender, juicy cut of beef. But it's not. Eye of round comes from a part of the cow that is a well used muscle, and when it comes from a muscle area that is used all the time, you end up with a lean and tougher cut of beef. Without that marbling of fat, lets face it – its usually tougher.
Don't let that scare you away from this economical and easy to cook roast!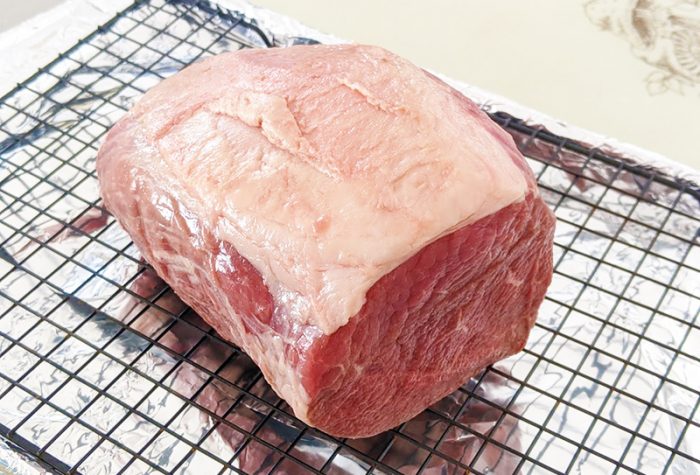 How to Cook an Eye of Round Roast
One thing that our family has learned is that all tougher cuts of roast benefit from a layer of butter on top, to add moisture and fat that they usually don't have. Cooking an eye of round roast is easy if you use these guidelines:
Bring the roast to room temperature on the counter
Slather it thick with the butter herb mixture
Roast at a high temp for a short amount of time
Reduce the heat
Cook low and slow until your desired done-ness is reached.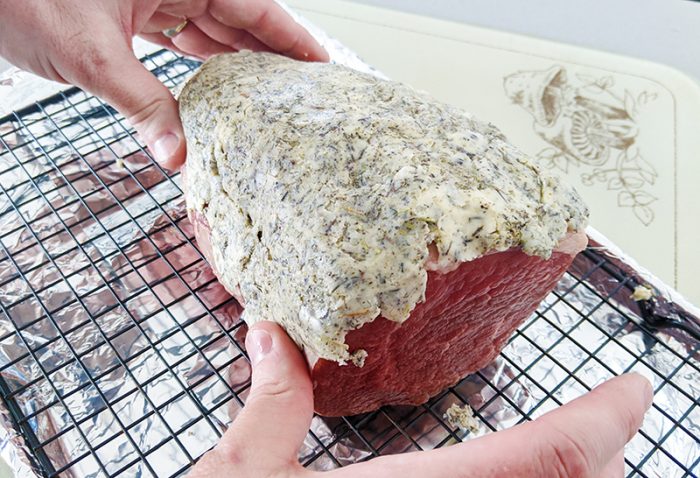 How to Make an Eye of Round Roast Tender
The key to making a tender eye of round is first the high heat method, which means that you roast the heck out of it for ten minutes, then reduce the heat to a lower one and then roast low and slow. This roast took 2 1/2 hours to cook to an internal temperature of 120 °F, which is our perfect done-ness. Again, this roast benefits from NOT being overcooked, as there is so little fat marbling throughout the roast. However, cook it until your preferred level.
Always tent your roast in tinfoil as shown in the photos below, allowing the juices to settle back into the meat and rest. It really does make a difference!
Slice this roast thinly against the grain as shown or it will be tougher. Slicing it thinly really helps!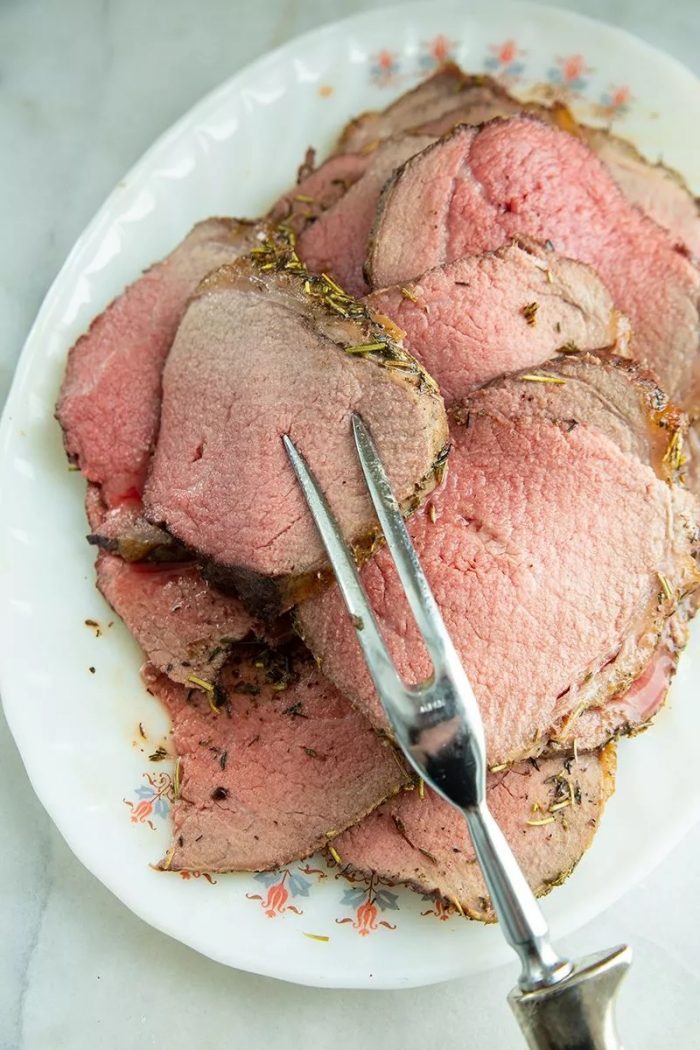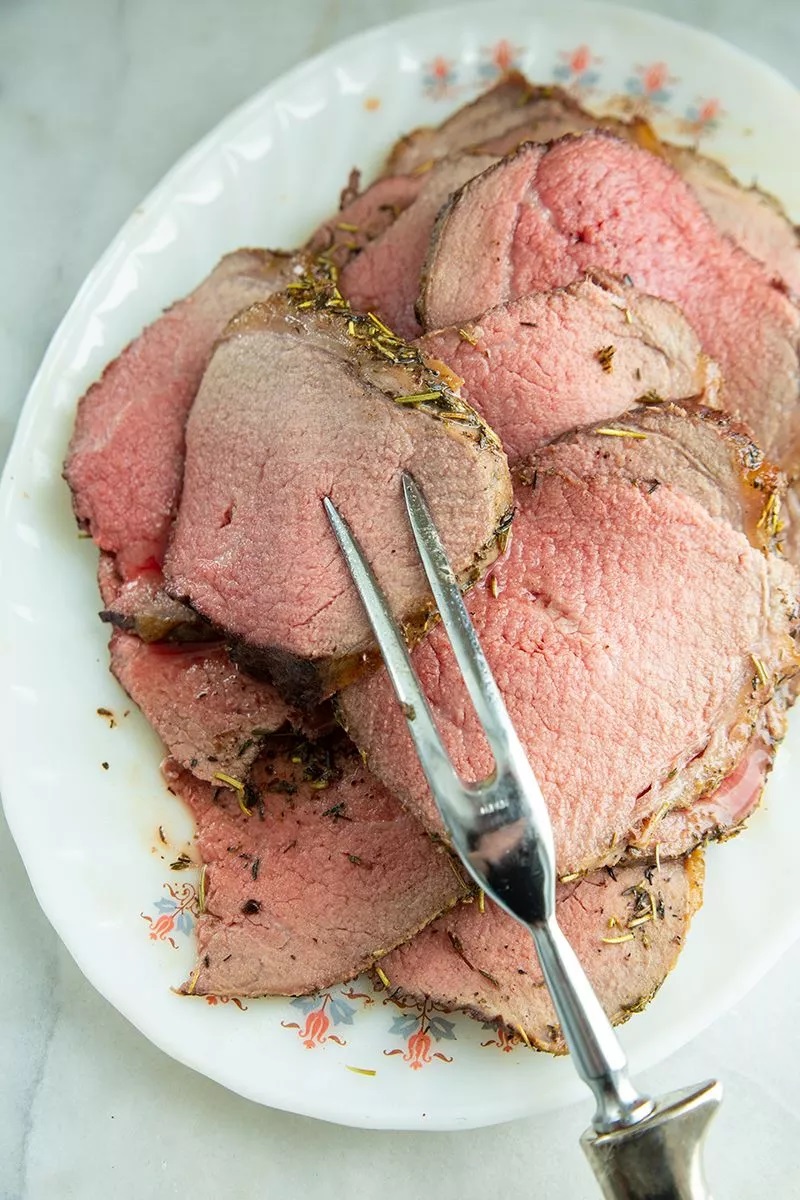 Beef Internal Temperatures Cooking Guideline
Blue in the middle– 110 degrees Fahrenheit – when the middle of the roast still "quivers"
Rare- 120-125 degrees Fahrenheit in the middle. The roast is warm all the way through. This roast was done to 120°F, then tented and raised to around 130°F.
Medium-rare– 130-135 degrees Fahrenheit in the middle. The center is pink, with slight brown towards the outside.
Medium – 140 degrees Fahrenheit in the middle. Barely pink with brown to the outside.
Well-Done – 160 degrees Fahrenheit all over. Brown throughout.
This month i I just happened to buy a new upright freezer because I like to organize and see my freezer food. While transferring the food I found all sorts of goodies in the bottom of my old one. Who else has roasts and meat that is still good in their freezer?
Also, this works well with wild game, FYI for those of you that have some in your freezer!
Happy Low Carbing!

PIN THIS RECIPE to your LOW CARB and DINNER RECIPES Boards and Remember to
[be_recipe_card_youtube_promo]
Herb & Garlic Stuffed Eye of Round Roast
This is the best way to cook an eye of round roast, a less tender cut of beef. High heat and searing a buttery herb mixture onto the top, stuffing it on top with garlic and a a low, slow cook yields a tender, juicy, delicious roast!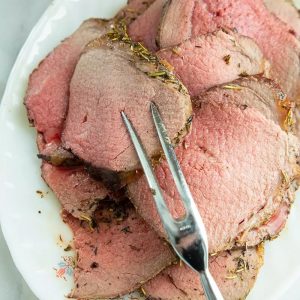 Prep Time

20

minutes
Cook Time

2

hours

30

minutes
Course

Main Course
Cuisine

American
Servings

10
Author

Karami Urbanoski
Ingredients
1

Eye of round roast 3-5 lbs

3/4

Cup

Butter softened

1.5

Tbsp

Dried rosemary freeze dried works the best

1.5

Tbsp

Dried thyme freeze dried works the best

1.5

Tbsp

Flaked sea salt

2

Tsp

Ground black pepper

5

Small cloves of garlic peeled and sliced in half
Gravy
1/2

Cup

Drippings from pan

1

Cup

Strong Beef Stock

2

Tbsp

Cornstarch or other thickener of choice.

1/4

Cup

Cold Water
Instructions
Remove your roast from all its packaging and let it sit out for an hour until it's about room temperature.

Place a roasting rack (I use oven safe metal cooling racks for smaller roasts) onto a cookie sheet that has at least a 1/2 inch high rim. Place the roast on top of the baking sheet, fat cap side UP.

Combine the butter and herbs ( minus the garlic cloves) together in a bowl.

Using a sharp little knife, cut small slits into the top fat cap of the roast in an even placement through the top. Take the garlic cloves, slather them in some of the butter herb mixture and push them into the roast, making sure they are completely stuffed into the beef.

Take the remaining butter and cover the roast completely.

Preheat your oven to 450°F.

Now we want to sear the roast. Place it in the 450 degree oven for 10 minutes

After 10 minutes, turn down the oven to 325 degrees and cook some more.

In the post above are some guidelines for cooking beef roasts. You want to pull the roast out a minimum of 10 degrees BEFORE you hit the desired doneness.

Once the roast is out, tent it with foil, and let it sit for 10-15 minutes.The temperature will rise at least another 10 degrees if you cover it in foil. It also lets the juices set and flow back into the meat.

Remove all of the drippings and place in a saucepan Make sure to scrape the good browned bits off the bottom of the cookie sheet! Bring to a boil and boil for 2 minutes.

Add the beef broth. If needed, add some more broth or bouillon powder to taste. At this point you can use it as "Au Jus" instead of gravy that has a few carbs per serving.

Whisk the cornstarch and water together, then whisk into the pot.

Slice the eye of round into thin slices and serve.
All calories and info are based on a third party calculator and are only an estimate. Actual nutritional info will vary with brands used, your measuring methods, portion sizes and more.
Made this recipe?
Share a photo of what you made on Instagram or Facebook and tag me @thekitchenmagpie or hashtag it #thekitchenmagpie.
Please rate this recipe in the comments below to help out your fellow cooks!