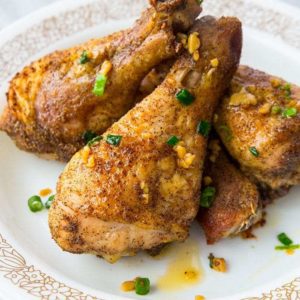 Amazing, mind-blowing salt and pepper oven baked chicken legs. Green onion, garlic and sesame oil make these the most amazing chicken legs that you will ever eat.
Preheat the oven to 400 degrees.

Combine the salt and pepper together in a bowl. Place the chicken legs on a lightly oiled baking sheet. Sprinkle the chicken legs with the salt and pepper, then shake on the baking tray to cover completely.

Bake for 15 minutes then turn and bake for another 15-20 minutes until crispy and cooked to 185 °F at least. You can cook them a bit further to your liking if you desire.

As soon as the legs are close to being done, heat the sesame oil in a skillet over medium heat then add the garlic and onions.

Cook until the garlic has browned slightly.

Remove the chicken legs from oven and place in a large bowl.

Toss the chicken legs with the garlic oil until completely coated.

Place the now crispy, oven baked chicken legs on a serving platter, spooning any leftover garlic oil over the top.

Serve and enjoy!
Calories and info are based on s 2 chicken legs per person serving.
Nutrition Facts
Salt & Pepper Oven Baked Chicken Legs
Amount Per Serving
Calories 601
Calories from Fat 405
% Daily Value*
Fat 45g69%
Cholesterol 239mg80%
Sodium 1963mg82%
Potassium 597mg17%
Carbohydrates 3g1%
Protein 42g84%
Vitamin A 355IU7%
Vitamin C 4mg5%
Calcium 48mg5%
Iron 2.2mg12%
* Percent Daily Values are based on a 2000 calorie diet.